Control is an important aspect within the injection moulding industry. Although we have always run a very efficient factory there's always room for improvement. Pin pointing those improvements is the difficult bit so to help with this we have installed an Intouch real-time monitoring system to all our injection moulding machines in our mouldshop which has been a real boon in improving our systems.
There is a piece on this in the British Plastics And Rubber magazine shown below along with a full press release from Intouch themselves.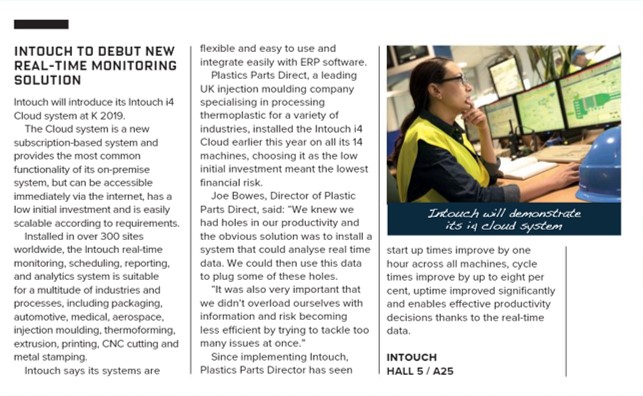 At Intouch, we believe that all manufacturers should have the tools to make the best production decisions. Intouch has spent more than 20 years ensuring that our system gives users the visibility and control to easily make decisions which consistently lead to significant improvements in OEE and profitability.
We have now made it even easier to get up and running and with very little capital expenditure, by introducing Intouch i4 Cloud. The Cloud system, which will be showcased at K Show 2019, is our new subscription-based i4 system and provides the most common functionality of our on-premise system (Intouch i4 Custom) but can be accessible immediately via the internet, has a low initial investment and easily scalable according to requirements. Support, updates and backups will be managed by Intouch, leaving you to concentrate on your core manufacturing business.
Installed in over 300 sites worldwide, the Intouch real-time monitoring, scheduling, reporting and analytics system is suitable for a multitude of industries and processes including packaging, automotive, medical, aerospace, injection moulding, thermo-forming, extrusion, printing, CNC cutting/machining, metal-stamping and food processing. Intouch systems are flexible and easy to use and integrate easily with ERP software.
Plastics Parts Direct
Plastics Parts Direct, a leading UK injection moulding company specialising in processing thermoplastics for a variety of industries, installed the Intouch i4 Cloud earlier this year in all its 14 machines. They opted for the Intouch i4 Cloud as the low initial investment meant the lowest financial risk.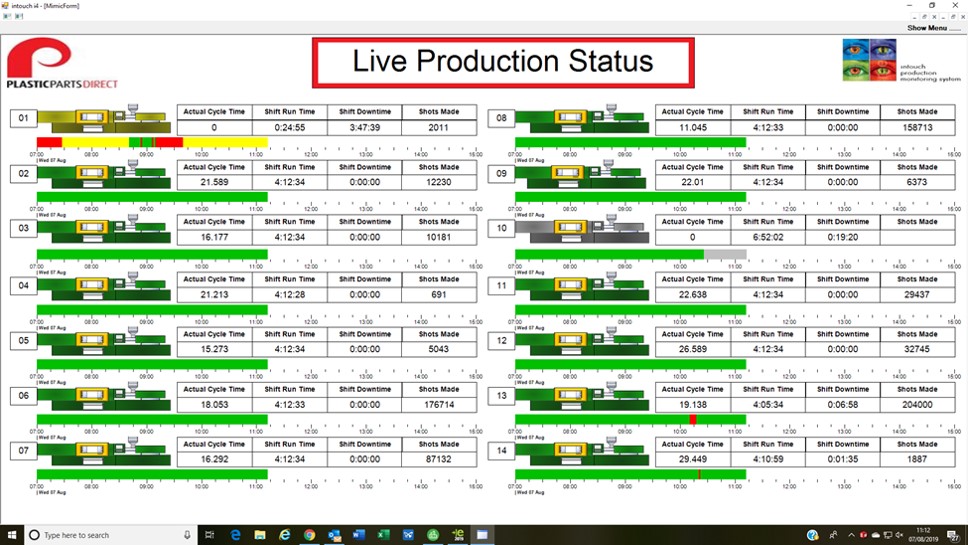 Joe Bowes, Director of Plastics Parts Direct:
'We knew we had holes in our productivity and the obvious solution was to install a system that could analyse real time data. We could then use this data to plug some of these holes.
It was also very important we didn't overload ourselves with information and risk becoming less efficient by trying to tackle too many issues at once.'
Since implementing Intouch, Monday morning start up times have improved by 1 hour across all machines, cycle times have improved by 5-8%, uptime has been significantly improved and the real-time data has led them to make effective productivity decisions:
'One machine in particular was underperforming, mainly due to its age. We cross referenced with the same tools running on other machines over a period of time which confirmed there was an issue. This prompted us to buy a new machine to replace this one and instantly we saw an increase of 30% in efficiency and cycle times and a reduction in power consumption too.
One of our biggest savings is downtime during normal production. Previously machines could be left for 5-10 minutes before being noticed which led to another 10-15 minutes warm up time and re-start time. Now they are attended to instantly eliminating the need to wait to restart. All production staff have bought into the system and what it has to offer as, along with the obvious interest side of things, it has proven to save them time and effort throughout their shift and they also have a tendency to be more competitive about keeping the screen green!.'
https://www.intouchmonitoring.com/